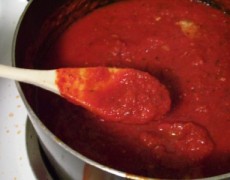 My husband found a way to make his delicious traditional marinara sauce with fewer carbs. This sauce has a really nice zing to it, and I had been missing it on keto.
Usually the tomato part of a recipe is a bit higher in carb count. However, he did some investigating while shopping and found that a 14 oz can of Del Monte diced tomatoes with zesty mild green chilis
 was 5g carbs per can, and Kroger tomato sauce was ZERO* grams of carbs per 1/4 cup. He used 2 cans of the diced tomatoes and 1 1/2 cans of the tomato sauce in his recipe.
The actual secret delicious ingredient in this recipe is the 1/2 of red wine, but be sure to make it DRY red wine, because the carb count is lower than sweet red wine.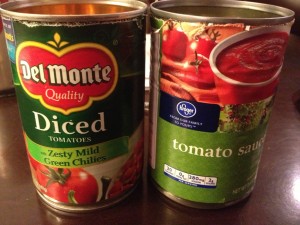 Here's the entire list of ingredients and what I calculated for carbs…
Marinara sauce:
1 and 1/2 – 14 oz. cans of tomato sauce (zero)
2 cans of Del Monte diced tomatoes with zesty mild green chilies (5g each/10 for this recipe)
2 tablespoons extra virgin olive oil (zero)
2 tablespoons minced garlic (1g)
¼ cup diced onions (4g)
1/2 cup dry red wine (4g)
1 tablespoon oregano (0g)
1 tablespoon basil (0g)
Pinch of crushed red pepper flakes (0g)
Salt and ground pepper to taste (0g)
Directions
1) Heat a large sauce pan over medium heat for 1 minute.
2) Add olive oil, crushed red pepper flakes, onion and garlic.
3) Saute until onion and garlic have turned translucent; about 1 minute.
4) Add diced tomatoes, tomato sauce, and wine. Reduce heat to a simmer and cook for 15 minutes
5) Add oregano and basil and cook another 10 minutes. Adjust the seasoning as needed with salt and ground black pepper.
Carb count – whole recipe = 19
This really makes a lot. You can get at least 10 servings from it, depending on what you use it for.
Approximately 10 servings @ 1.9 net carbs per serving. Put it over 1/2 cup cooked spaghetti squash (5.9 for both) or in my keto lasagna recipe (6.4 g. carbs). You can also use it as a pizza sauce on the best low-carb pizza crust ever.
*Note about the Kroger tomato sauce: When I first wrote this blog, I put the sauce at zero carbs. I then found info online that said one can equaled 7 grams of carbs, so I added that to the total, making the marinara sauce recipe 4 grams of carbs. I was discussing my supposed error with my son, and he told me that I was correct the first time. He's on keto and buys it by the case.
The Kroger brand claims to be 1 gram of carbs and 1 gram of fiber per 1/4 cup of sauce. I have since reduced the total carb count of the recipe back to my originally stated 1.9 grams per serving. See pictures of the cans below.
If you don't have a Kroger near you, then I suggest looking at all the brands to see if there is another that has a carb count this low. I almost can't believe this myself, but if this brand can do it, there may be others.
Since many people have commented that this nutritional info is pretty suspicious (and I agree!), I thought I'd post an alternative product. My husband has found Rao brand sauce (also at Kroger, but he says it's expensive there, so he gets it at a local Detroit-area store called "Hillers"). This product has 3 grams of net carbs per 1/2 cup.
He still adds cooked Italian sausage and mushrooms to it and it's really delicious. It's not quite the same as the home made version, but it's definitely quicker! Spoon over "Veggetti-ized" summer squash or zucchini and have a lovely plate of spaghetti and sauce.